Sparkling Paper Star Box Set ( 40 stars )
£

170.00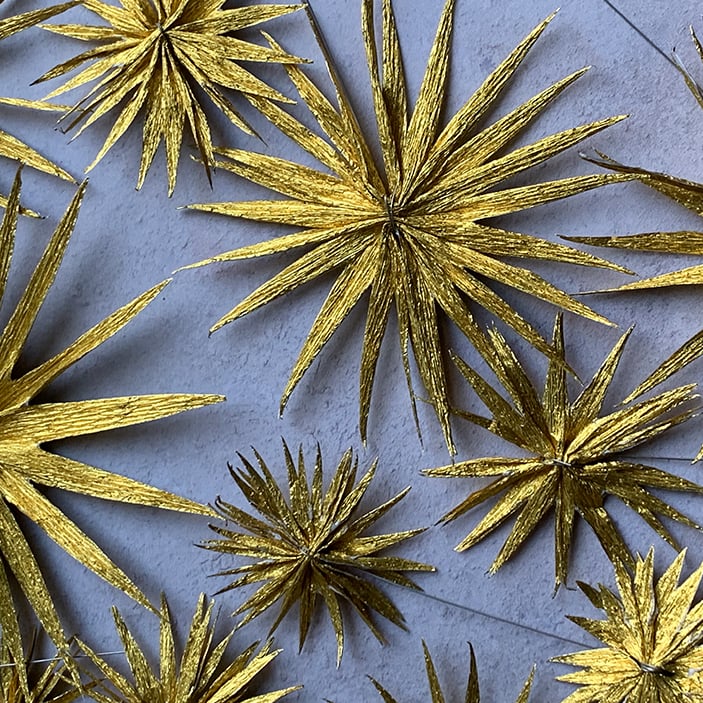 Introducing the Sparkling Paper Star!
In paper's realm, a star so bright,
Glimmering, enchanting, a festive delight.
Crafted with love, a work of art,
Bringing magic and joy to every heart.
On the tree, it hangs with grace,
Twinkling, sparkling, filling the space.
Guiding us through the darkest night,
With its gentle glow, pure and bright.
Oh, sparkling paper star, full of cheer,
Bringing warmth and magic every year.
A symbol of the holiday's embrace,
Filling our homes with love and grace.
Are you looking for the perfect addition to your Christmas tree, table decorations, or gift toppers? The Sparkling Paper Star is here to add a touch of magic to your holiday season.
With its shimmering design and high-quality crepe paper, this star is sure to be the centrepiece of your festive decor. Whether you hang it on your tree, place it on your table, or use it as a charming gift topper, the Sparkling Paper Star will bring joy and sparkle to any space.
Boxset includes,
6cm stars x10
8cm stars x10
12cm stars x10
15cm stars x10
Orders will be sent out within 10 days, for urgent orders, please email [email protected]
Share